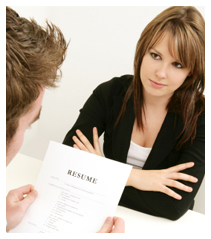 Resumes Services
Do you need help presenting yourself to a prospective
employer in a professional manner? Let our experienced
placement coordinators produce a resume for your job
search. Do not go to an interview without a resume. We can produce a professional resume for you or you can do one yourself. Click here to get started ordering your resume online.
Read More
Resume Fee
Cost $45.oo which includes 10 professional copies on your choice of

white or color paper
.
Your resume will be kept on file on disk and can be easily updated in the future. To contact one of our placement coordinators, please call (727) 547-8233 or (813) 877-8233 or email us.
Click Here to get started.

(727) 547-8233 Pinellas/Pasco
(813) 877-8233 Hillsborough
(877) 303-8233 Toll Free
Contact Us
Our Philosophy
We understand the professional qualifications required by a busy dental office and we strive to make a good match.
Our on-call staff are ready to help you meet your temporary or permanent staffing needs when-ever necessary.